Your business' needs are constantly changing—and there is no better time to think of more effective ways to increase your profit margin than now, so you can be prepared for uncertain times. 
Profit margins are essentially an indicator of how well a company is performing. For your business to increase profit, you need to identify opportunities in the different areas in your company so that you can reduce costs.  
While that part is easy, the bigger challenge is achieving that without compromising quality and your high standards. 



Cost-effectivity

is

a dilemma

that every business head encounters. 
There are several areas in your business that one can further develop to achieve cost-effectivity, but in this article, we'll introduce a way to expand your profit margin by incorporating an offshore team.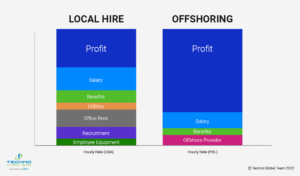 Growth Opportunity #1 – Reduced Salary, Top Talent 
One of the biggest impediments in increasing profit is the salary wages of the people you hire.  
High labor cost is among the many factors for soaring business expenses. It is difficult to reduce labor costs without compromising quality and efficiency. 
In the current market, for IT staff, the wages are increasing because of the demand for higher salaries due to the rising inflation as well as the demand for their services. 
At the same time, the scarcity of talent pool in the US makes it more difficult to fill in job vacancies within the expected time frame. In dire cases, you might give in to a higher salary just to fill in your company's job vacancy needs.  
These factors create a ripple effect on your net margin.  
With offshoring, you can tap into top talent from across the world, but at a fraction of the salary wage of the ones you hire locally.
Growth Opportunity #2 – Reducing Overhead Cost  
When it comes to hiring talent, it's not salary alone that impedes profits.  
When you hire, these are the other expenses that you will need to cover: 
Office supplies

 

Utilities

Statutory taxes

 

Insurance

 

And others

 
Through offshoring, you can significantly reduce costs with the items mentioned above because of the lower cost in another country. 
With offshoring, you will require less office space, allowing you to save money on work equipment, office rentals, payroll, insurance, and other operating expenses.
Growth Opportunity #3 – Reducing Man Hours 
The extra cost of the hours spent on finding talent, posting in job boards, doing initial interviews, creating assessments, evaluating the assessment, onboarding, and other HR matters can also bring down your profits since it drives away your focus to your core business. 
Offshoring staffing companies (such as TGT) provide solutions from finding staff, onboarding staff, and all the way to their monitoring their day-to-day activities.  
As a side note, TGT also provides consultation services on how to improve the skills of your staff, giving you more value for your business. 
Consequently, less spending can improve your company's profitability—thus increasing your chances of expanding your business' functions and achieving your long-term goals.   
Let us help you minimize risks by walking you through the comprehensive benefits of offshoring. Get in touch by emailing us today or filling in our contact form.