Companies that are looking to scale and grow are always seeking solutions to get the bang for their buck. Over the past years, offshoring has seen an upward trend for both big and small businesses, helping them minimize costs.
 
What is Offshoring? 

Offshoring is simply the process of getting work done in another country. You take an activity and move to an offshore location, but that activity is still completely managed within your company, so you control the outcomes. 
This model of Business Process Outsourcing is not new; globalized companies around the world have used it for many years. However, due to the growth of the Internet and advancement in communication technology, offshoring has now become more accessible and a suitable option for business owners in the SME space. 
 There are many benefits for moving business functions offshore and not limited to just the primary rationale of reducing costs. 
Here are 5 benefits of Offshoring:
1. Business Growth
Offshoring allows you to reduce one of the most expensive parts of your business, the labor costs. Freeing this up will allow you to reinvest funds into your business and give you the opportunity to expand your offerings and service.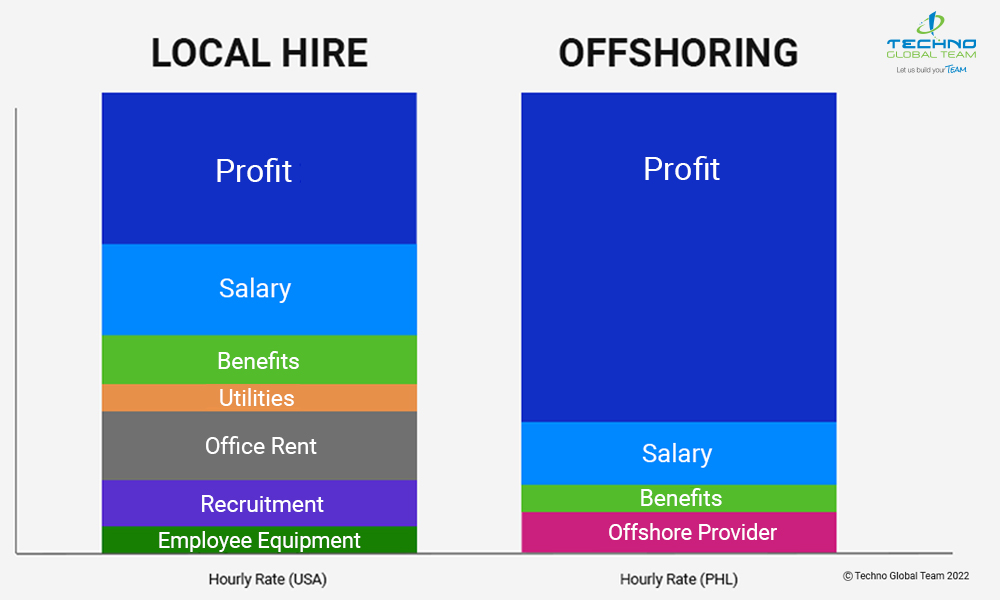 Added benefit: Opportunities for global expansion 
When you offshore your processes, this will allow you to expand into new markets, establish a global presence, and gain a better understanding of international markets.
2. Access to Specialized Staff
This model gives you access to a young and vast pool of talent. In particular to English speaking foreign countries, who are highly skilled, and university educated.
With the current pressure to find employees with the right skillset in already developed countries, implementing offshore teams will complement the existing staff.
The wide skill availability for knowledge-based processes through offshoring becomes an advantage for any business looking to fulfil specific requirements.
Added benefit: Tap into specialized industries 
Offshoring countries like the Philippines have an abundance of skilled talent across different industries, whether it's technology, administration, finance, etc. This will allow you to fill key positions in your company more easily and quickly.

3. Greater Availability
Having a different time zone and a workforce ready for 24/7 operation gives you an outstanding opportunity to support your clients when they need it and fulfil their ever-changing needs.
This results in a better level of service and a higher level of customer experience with quicker and direct contact with your business. Increasing the competitive edge in your industry.
Added benefit: Increased productivity 
As soon as your business is able to operate 24/7 and can cater to customers at any time of the day, this allows you to maximize your services, get more things done in less time, and achieve higher customer satisfaction. 
4. Reduced Risk
Having multiple teams in different countries helps to reduce your risk, provides a greater marketing opportunity and allows you to support your clients when they need it.
Running a business in today's business climate comes with a lot of risks, from rising labor costs, skill shortage, cyberattacks, and more. Working with the right offshoring provider can help you mitigate these risks and keep your business running at optimum efficiency. 
5. Control
Many businesses may not want to relinquish control of part of their operations and production to an external party. Offshoring allows you to have dedicated staff to work for your company only. You provide the direction, train the staff and everything is done the way you want it to, which leads to accountability internal of the business.
Added benefit: Increased productivity
How to Make the Most Out of Offshoring
Here comes the tricky part. How can you make offshoring work and get the results you want for your business?  
Hire two, instead of one.

Having two staff for one post allows for better service, boosted productivity, and can provide optimum support to your onshore staff.

 

Partner with the right offshore provider.

A reliable offshore provider must have enough experience in the industry as this can be a positive sign of stability.

 

Establish clear communication

.

Communicaton is important in making sure your objectives and processes are met. Video conferencing, instant messaging, and project management tools are helpful to ensuring effective collaboration and feedback.

 

Understand cultural differences.

Cultural differences can affect how work is approached, prioritized and completed. By understanding these differences, you can easily establish better management, communication, and work processes that work best for both of you and your Offshore Team.

 
Want to learn more about how you can take your business to great heights with these benefits? Book a discovery call with us and we'll guide you through every step.